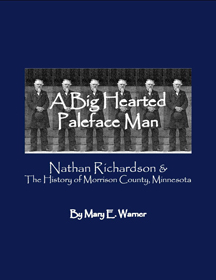 It's something I've been meaning to do for some time and I finally got around to it. I've uploaded excerpts from our Nathan Richardson book – A Big Hearted Paleface Man – so you can get a taste of it online.
We've had an index to the book online for ages and it's still available. Richardson mentioned a lot of people in his 1876 and 1880 histories of Morrison County, which are republished in their entirety in the book. (They were originally published in serial form in the Little Falls Transcript.) Because of the amount of early history Uncle Nate provides, I turn to this book often.
If you like to peruse a book before purchasing it, now you can with the Richardson history. See this page for excerpts and this one for the book index.
You can buy the book through our online Shop or at the Weyerhaeuser Museum. If you're looking for a holiday gift for your favorite local history buff or genealogist, this makes a great one. Did I mention it's on sale for half-price through the end of the year? (That makes it even better, doesn't it?)
-Mary