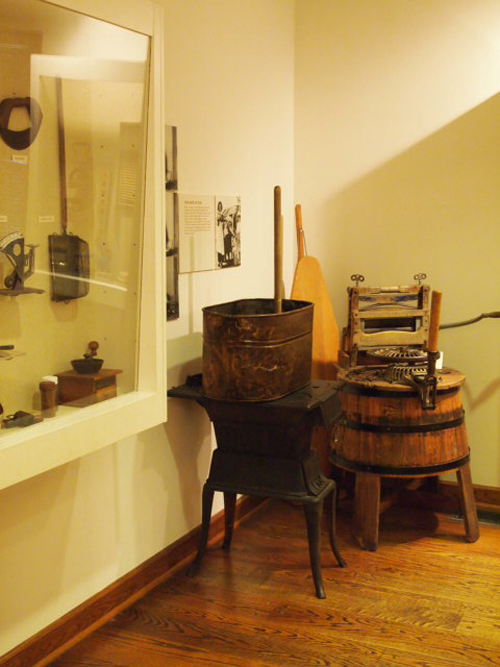 The Morrison County Historical Society loves visitors at The Charles A. Weyerhaeuser Memorial Museum. With two permanent display rooms and feature exhibits that are periodically changed, there is plenty to see inside the museum.
Outside there are areas of natural prairie plantings, a gazebo overlooking the Mississippi River, and a courtyard landscaped with American Locust trees surrounding a Victorian-style fountain. For further details on interior displays, see Exhibits.
Tours
Individual tours, including family groups, of the museum are self-guided.
Group tours and school tours are welcome. Reservations for all group and school tours need to be made in advance.
School tours are guided by Historical Society staff and are free.
Group tours are generally self-guided, with a brief introduction to the museum provided by staff.
Group tours guided by staff cost $3 + tax per adult (children 17 and under are free). Guided tours require a minimum of 5 adults, with a maximum of 15 adults.
To arrange a tour, call (320) 632-4007 or email MCHS to make reservations. Please provide museum staff with the desired date and time of the tour, the size of the group, a contact person, and a phone number. For school groups, provide the approximate age or grade of the children. Allow at least a half-hour for each exhibit room for school tours.
The museum is closed on Sundays, Mondays, Thursdays, and major holidays, so keep this in mind when making reservations.
Museum hours are Tuesday, Wednesday, Friday and Saturday, 10:00 a.m. to 5:00 p.m.
Staff will accommodate groups as early as 9:00 a.m. if this has been arranged in advance.
Location
The Charles A. Weyerhaeuser Memorial Museum is located in Little Falls, Minnesota at 2151 South Lindbergh Drive – just south of the Charles Lindbergh Historic Site.
Google Maps will show you the way.