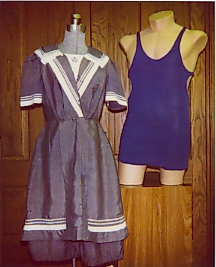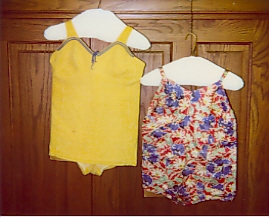 As spring slowly creeps toward summer, thoughts of swimming flit through the air.  Even though we have been pretty cool in central Minnesota the past few days, some hardy (perhaps foolhardy) souls have already tested the local waters.  Most likely they were wearing wetsuits rather than the more typical swimwear fare.  The four swimsuits shown above reflect the rapid changes in swimwear design that occurred during the first half of the twentieth century. Those changes were the result of the demands of America's fashion-conscious culture combined with innovations in technology and an increasing interest in swimming as a sport.
The earliest dated swimsuit from the Morrison County Historical Society's (MCHS) textile collection is the dark blue woman's bathing costume that was worn by Lottie Lee (Tanner) Martin (b.1874) of Little Falls, Minnesota.  Made of finely woven wool, the costume consists of a knee-length short-sleeve dress and short baggy trousers, known as bloomers, that are gathered below the knees.  The bright blue wool men's swimsuit was worn by Fred Welker during the first part of the twentieth century.  Though tight-fitting the design of this one-piece suit is simple, consisting of a tank top and shorts. The shorts are topped by a short overskirt.  Until swimming trunks became fashionable in the mid-1930s, men's suits continued to include short-sleeve shirts or tank tops.
The two remaining suits were worn during the middle of the twentieth century by Bertha (b.1919) and Mabel (b.1926) Zimmerman.  Bertha and Mabel were the children of William and Ethel Zimmeran, who owned and operated a farm in Bellevue township in Morrison County.  These one-piece, halter-top bathing suits are made of Lastex, an elastic fiber made from Latex. Lastex yarns are often used to create fabrics like Spandex and are also used in foundation garments. The colorful fabrics and gathers at the bust line reflect the increasingly feminine style of women's swimwear in the 1930s.