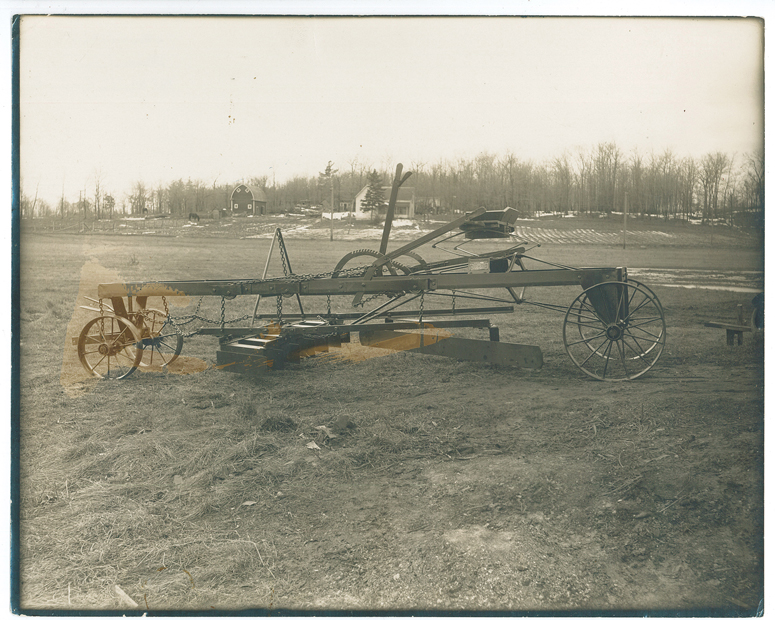 The road construction and repair season is well underway in Minnesota after a long hard winter and short cold spring. It was a tough winter for Minnesota's transportation infrastructure. Lots of snow, ice and road de-icing chemicals combined with long stretches of sub-zero temperatures and normal wear and tear wreaked havoc on the state's transportation corridors. Axle-breaking potholes, heaving, broken pavements and even sinkholes made travel an occasional nightmare. Whether you walk, ride a bike, drive, take public transit or use some other means of ground transportation to get around, the hassle of detours and delays related to road repair and construction can be aggravating. The outcome of a safer, smoother surface on which to travel, however, usually makes it all worthwhile. Throughout the course of Minnesota's transportation history, inventions such as Hans Henry Gosch's road drag have made road maintenance and repair more efficient and greatly improved. In 1921, when Gosch received his first patent for a "new and useful improvement in road-drags," the demand for better roads was reaching new heights as gas-powered vehicles began to take over America's roadways. Admired by local and state officials and used in many locations across the state, Gosch's road drag helped develop the vast and complex transportation infrastructure used in Minnesota today.
When Hans Henry Gosch (1865-1933) began manufacturing road drags in Randall, a small town in the northern portion of Morrison County, Minnesota, he was already a well-established member of the community. The father of six children, two of whom died young, Hans had moved to the area with his wife, Ida Ellen Williamson (1875-1965), prior to the birth of their first child, Henry, in 1893. Hans and Ida initially homesteaded a tract of land that was located about five miles north of Randall. By the turn of the century, they had moved to town. In 1902, Hans opened a general merchandise and grocery store, a business which continues to operate today. The store sold everything from shoes and dry goods to groceries and homemade ice cream, Ida's specialty. Gosch sold the store to his oldest son, Henry, in 1926, just five years after he had received his first patent and had opened the Gosch Road Drag Factory for business.
Gosch's Road Drag Factory offered horse-drawn or motorized drags or maintainers for use on county and township roads. Early reports of sales by the factory showed it to be as successful an enterprise as Gosch's general merchandise and grocery store. By the fall of 1922, only a year and a half after receiving his first patent, the factory had sold twenty-two drags in fourteen counties across the state. In 1923, a two-horse drag sold for $190 and was offered on a 30-day trial period with prepaid shipping to any railroad station in Minnesota. Twenty-five drags were sold that year. By 1924, the price had gone up to $198. Shipping was still prepaid, but the trial period had been reduced to fifteen days. Gosch received two patents in the United States for "Improvements in Road Drags," one on March 29, 1921, and the other just over two years later, on June 26, 1923. He also applied for and received a patent from Canada on September 20, 1921.
Gosch's road drag consisted of a four-wheeled frame to which, it was claimed, any make of road drag could be quickly attached ("Gosch's Road Drag Is Doing Fine Work." Little Falls Daily Transcript 26 May 1921). Gosch's drag included one or two cutter bars, a smoothing bar and a system of pulleys, chains and levers that allowed the operator to control how the drag worked. The cutter bar was constructed of a series of angled steel blades mounted on a plate that could be maneuvered through the use of a foot lever. This allowed the operator to add extra weight to the cutter bar. The cutter bar on the 1924 model weighed 205 pounds and the smoothing bar weighed 105 pounds. When pulled along a road, the cutter bar and smoothing bar would scarify, drag and plane the surface, removing ruts and "chuck holes" and creating a good driving surface.
Gosch's Road Drag Factory continued to produce road drags until after Hans died from a brain tumor on September 26, 1933. Hans had been sick for over a year and his youngest son, Everett, had taken over management of the business. Everett became the owner of the factory after his father died but by 1941 had moved "out west." (Mahling, Marilyn Gosch. The Gosch-Petit Story. 1995.) The factory had opened during a period of intense road building in Minnesota and there were many local projects that required grading and held the promise of future road maintenance. The automobile was fast becoming ubiquitous in the American landscape. By 1925, 17 million automobiles had been registered and the nation had 20,000 miles of concrete paved roads and hundreds of thousands of miles of "improved" roads. Hans Henry Gosch received his road drag patents at a time when improvements to the nation's road system were front page news. With government funding the paving of major highways and an increased demand for better local roads, his ideas could not have come at a more opportune time for a fledgling business.
~ Ann Marie Johnson
Curator of Collections
This article was originally published in the Morrison County Historical Society newsletter, Vol. 27, No. 2, 2014.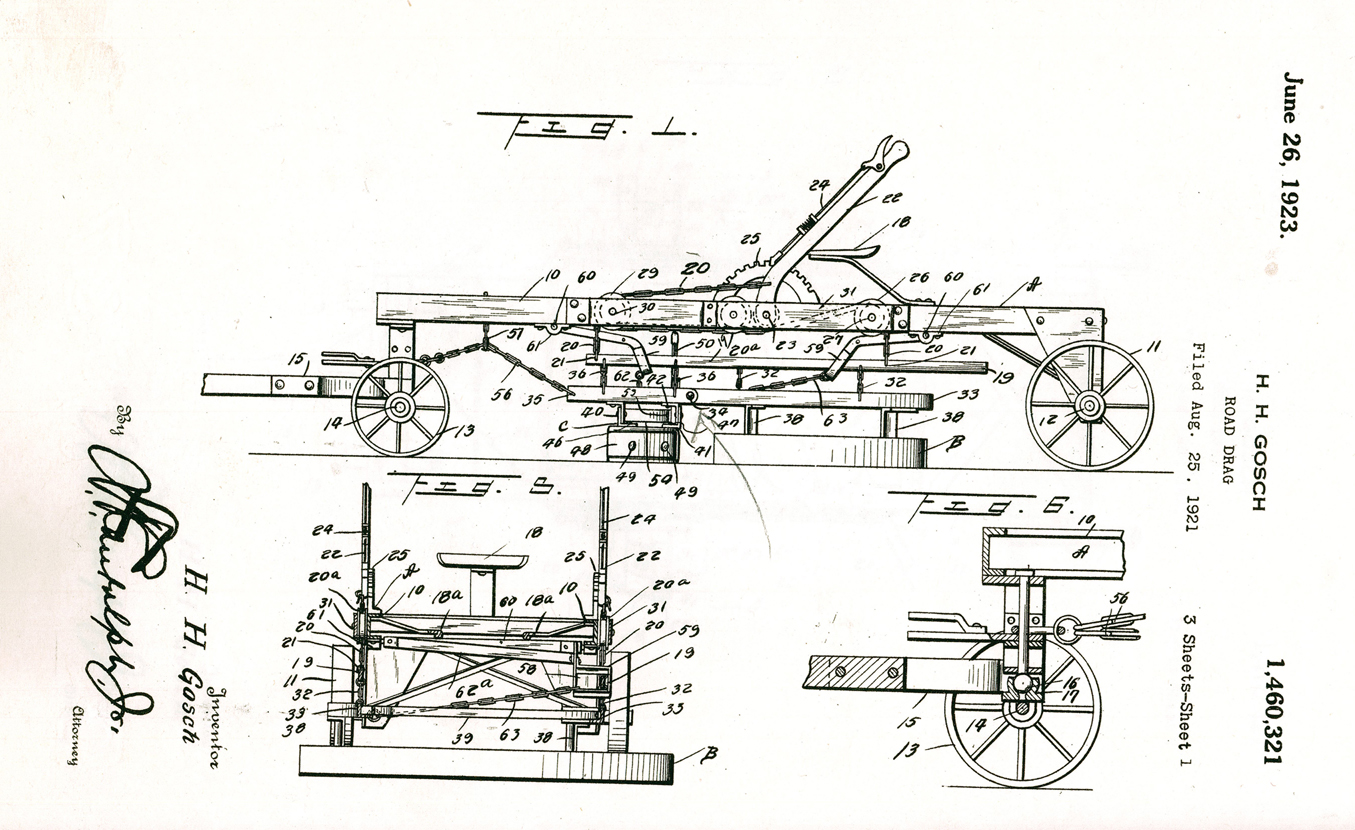 The Power of Demonstrations
Gosch's best advertisement was probably his frequent demonstrations. One "demonstration" occurred in 1927 prior to the special celebration held in Little Falls, Minnesota, for aviator Charles A. Lindbergh's homecoming. Gosch offered his services to put the dirt streets of the city in tip-top shape for the event and mention of this made it into the local paper ("Hans Gosch of Randall, manufacturer of road drags…" undated newspaper clipping; MCHS Archives). Less then two months after receiving his first patent, Gosch offered one of his first drags, prior to them being placed on the market, to the overseer for the road north of Randall leading Cushing for his use over the summer. Reports were that the road was in excellent condition, that "chuck" holes and rough spots were rare and that the road overseer was having no trouble at all keeping the road in fine shape ("GOSCH'S ROAD DRAG IS DOING FINE WORK", Little Falls Daily Transcript; May 26, 1921). In June of 1921, he used his drag on a round trip from Randall to Little Falls and back, cutting down ridge and filling in every "chuck hole". (Gosch Drag Is Given Tryout", June 20, 1921, LFDT) Touted as the "inventor of road building and road caring machinery", Gosch's flexible road drag was considered a labor and money saving device, largely due to the fact that it grades as it drags and that it can be operated by one person. ("GOSCH ROAD DRAG IS DEMONSTRATED", undated newspaper clipping, MCHS Archives).
~ Ann Marie Johnson