Okay, peeps! We're giving you a chance to win a one-year membership to the Morrison County Historical Society. If you follow us on Facebook, you've probably seen that we've been obsessed with two large icicles hanging off the museum roof in our courtyard area. We've taken to calling one GINORMOUS. This one hangs in the northeast corner. The other is called RIVAL, and it hangs in the northwest corner.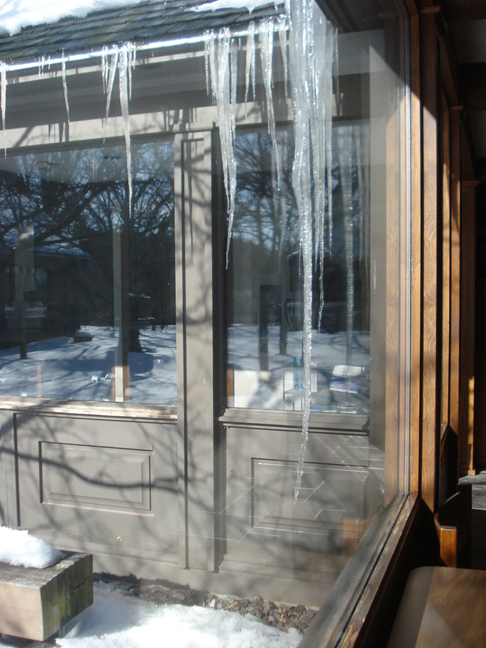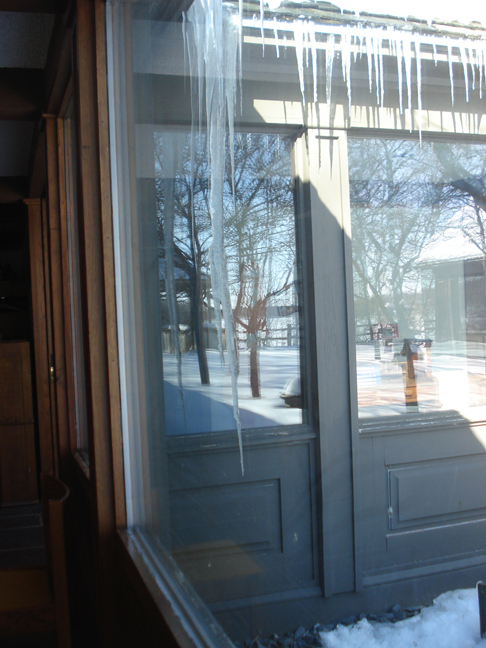 These icicles have been growing fast, sometimes gaining several inches in a single day. We've been wondering when they're going to fall, as other smaller icicles are continually falling from the roof. A couple of our Facebook fans suggested having a contest concerning the icicles, which is a fabulous idea, so we're introducing the ….
Icicle Watch Contest!
Here are the terms:
Give us your guesses as to when GINORMOUS and RIVAL will fall and win a one-year membership to the Morrison County Historical Society. Membership gets you a subscription to our quarterly newsletter, plus voting privileges at our annual meeting.
We're giving away 2 memberships, one for GINORMOUS and one for RIVAL. Whoever guesses closest to when each falls will win. You can make separate guesses on each, but if you guess correctly on both, you'll only win one membership and we'll select the next closest guesser for the second membership.
Get your guesses in quickly, either here on the blog in the comments section, or on Facebook. Ben is predicting the upcoming warm weather will cause our icicles to fall soon.
We'll arrange to get contact info from the winners after we determine who they are.
Regular photos of GINORMOUS and RIVAL will appear on our Facebook fan page.
-Mary
[Addendum: To make this more exact, you can guess a time along with the date for the falling of the icicles. Although, if we're not here when they fall, we won't be able to pinpoint the time. We'll cross that bridge if and when we come to it.]