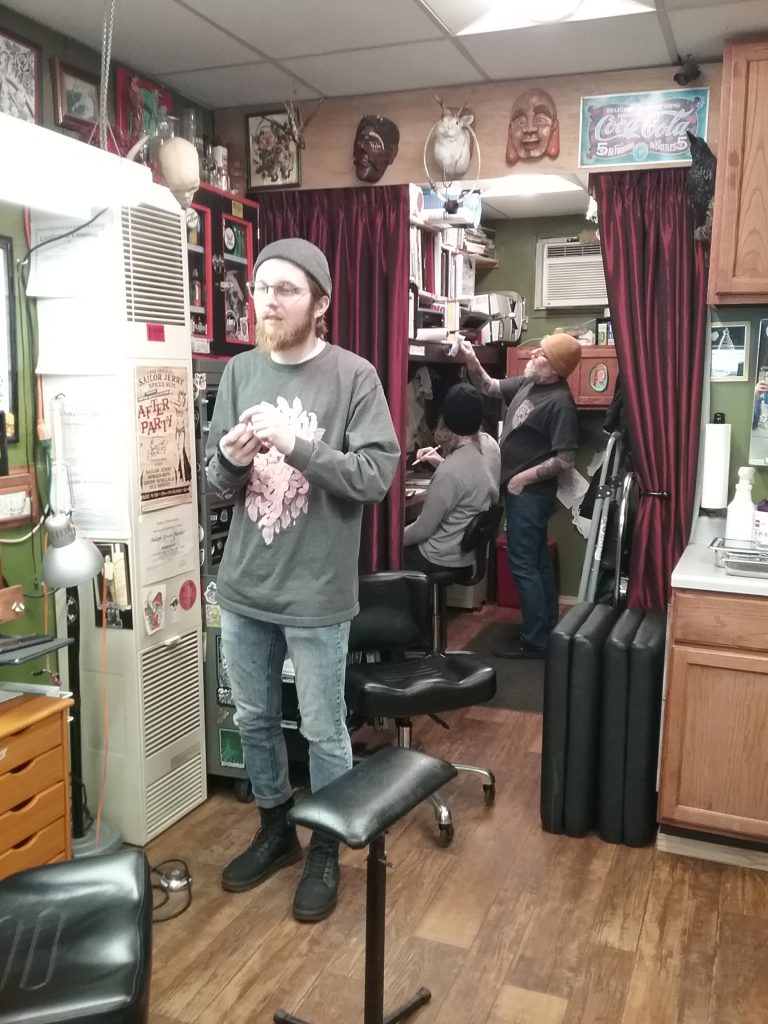 In order to be licensed to perform tattoo in the State of Minnesota, a person "must complete a minimum of 200 hours of tattoo experience under supervision." (Minnesota Statutes 2019, 146B.03 Licensure for Body Art Technicians, Subd. 12 (1)). The supervision must come from a licensed tattoo artist. According to state statute, no one who is unlicensed is even allowed to use the terms "tattooist," "tattoo artist," or "tattoo technician" in reference to practicing tattoo. (Subd. 2 (a))
Minnesota's statute for Body Art Technicians also includes body piercing, with licensing requiring 250 body piercings done under direct supervision and an additional 250 piercings done under indirect supervision. (Subd. 12 (2)) Because tattoo and piercing are both forms of body modification, tattoo studios often offer both services.
Tattoo schools are rare and, according to many of the licensed tattoo artists around Central Minnesota, most of the schools that have sprung up periodically haven't been very good. So, without a reputable tattoo school available, how is one supposed to learn tattoo and get their 200 hours of supervised experience? Through a good, old-fashioned apprenticeship.
However, it is much easier to tell someone to get an apprenticeship than it is to actually get one.
Of the tattoo artists interviewed in Central Minnesota, all had stories about how they got their training and what it was like.
Tattoo licenses in Minnesota are a relatively recent requirement. The statute on licensing was adopted in 2010 with the effective date being January 1, 2011. Tattoo artists prior to this date had to cobble together their training however they could. This can be seen through the experiences of Central Minnesota's artists, with early ones coming to the field without the formal apprenticeship required of later artists.
AJ Elliott of Elliott's Tattoo in Little Falls learned how to do tattoo from a girl who did stick-and-poke tattoos with India ink. This was in the 1980s, when there were even fewer opportunities to learn tattoo than there are today. It was also difficult to find tattoo equipment, with AJ having to look for small ads for equipment suppliers in the back of adult magazines and writing a letter in order to acquire such equipment. In practicing tattoo without having had an apprenticeship, AJ felt he was breaking the rules, so he kept quiet about his tattoo work. He started Elliott's Tattoo in his house around 1990 and referred to himself as a "kitchen magician."
Jason Brigmon, a tattoo artist at Skyline Tattoo Studio in Little Falls, was primarily self-taught, both as an artist and a tattooer. It was hard to get an apprenticeship when he got into tattooing in the mid-to-late 1990s. Some friends talked him into giving them tattoos with a homemade tattoo machine. He also practiced by tattooing his brother.
Josh Stumpf, owner of Skyline, has been in the industry close to 30 years. His dad introduced him to Frank Hamilton, owner of Fancy Colors Tattooing in Motley. Frank asked Josh to do a couple of drawings for him and he ended up creating stencils for Frank and learning about the different kinds of tattoo machines through hanging around in Frank's shop. Josh learned about medical protocols related to keeping a sanitary shop through studying library materials at a university, where his mom worked with a DNR raptor program.
Eric Noble of Dark Matter Tattoo in St. Cloud learned tattoo while in prison in 1997. Tattoo gave him a productive activity that kept him from getting into further trouble. He learned an unprofessional version of tattoo from Dennis Cahill while in an Arizona prison. He said that though the technique wasn't professional, they tried to create the safest conditions possible given their surroundings and make-shift equipment.
Later, Eric got an apprenticeship with Brandon Noetzel of One Life Tattoo in Brainerd. It wasn't easy to become Brandon's apprentice. Eric was turned down a couple of times and was only accepted once he brought back an improved portfolio and showed he was more dedicated to learning. His formal apprenticeship started in 2009. Normally, it takes a year or two to get the 200 hours of supervised tattoo experience needed for licensing, but because Eric already had tattoo experience, his apprenticeship was between 8 months and a year. He worked for Brandon 8 hours a day, every day, and wasn't paid for his work.
This is typical of an apprenticeship: Lots of hours with no pay and the persistence to prove you are worthy of being an apprentice.
According to Tyler Hamline, body piercer and co-owner of Red at Night Studios in Brainerd, you had to show you were hungry for an apprenticeship. He started piercing in 2000, when he turned 18. He was a constant fixture at Cloud 9 tattoo studio in St. Cloud at the time and had been tattooed there multiple times. He loved the atmosphere and freedom he found within the shop, but because he wasn't an artist, he decided to become a body piercer in order to be part of the industry. It took Tyler 6-8 months to convince Andy "Goat" Sandberg to take him on as an apprentice at Cloud 9. His apprenticeship was 6-7 months long, 6 days a week at a minimum of 8 hours a day. This time was not all spent piercing. He had to clean stuff in the shop, run and get food, and take care of the tattoo artists, too, all without pay. He was happy to do it because he was getting trained, saying, "Your teachers are doing you a favor by training you to have a career. Being willing to work for free shows your passion."
Along with previous experience, some of what determines the length of time for an apprenticeship is studio volume, according to Shane Post, body piercer and co-owner of Wingnut Tattoo & Piercing in St. Cloud and Anoka. If the volume of customers is low, it's going to take longer to get the experience needed for licensing. Shane said that he fell into piercing when he was younger and got into a shop when he was 18. He was lucky to get his apprenticeship at the time (mid-1990s) because there weren't many apprenticeship programs and shops weren't really hiring.
Anthony Elliott II, son of AJ Elliott, apprenticed with his dad. He started tattooing, creating small tattoos, when he was 15. When he was a kid, he helped with all sorts of tasks in the tattoo shop, like drawing tattoos, setting up and tearing down equipment, and teaching people how to care for their tattoos.
Being an apprentice isn't just about learning how to create tattoos or do body piercings. It's about learning how to run a business and handle customers. But, according to Eric Noble, it goes even deeper than that. He referred to the Japanese term senpai-kohai (pronounced sen-pie, k?-high) in describing the relationship between the apprentice and his or her teacher. This is a master/student relationship in which there is more devotion between the two than in a traditional training or classroom situation. A senpai (master) will teach the kohai (student) ethics and morals. What a student does is a reflection of the master's teaching.
Eric said that transmitting values and the necessary skills is kind of like parenting, being stern when needed, but also being caring toward the apprentice. Because of the dedication it takes to serve as a teacher to an apprentice, most tattoo artists limit the number of apprentices they take on, which is part of why it's difficult to get an apprenticeship and a potential apprentice has to show the proper perseverance.
The senpai-kohai relationship within the tattoo industry creates a traceable lineage from student back to master, who was once a student under a different master. Erik Cagle and Judy Hunstiger of Purple Pain Tattoo Studio in St. Cloud discussed this lineage. Erik started hanging out at Jeff's Tattoo and Total Body Piercing in St. Cloud, visiting and getting tattooed by Jeff Hunstiger, Judy's husband. Erik then apprenticed with Jeff. Judy learned tattoo from Tom Genereux, who owned Rising Phoenix Tattoo Studio in St. Cloud. Tom learned from Don Nolan, who, in Tom's words, was "the godfather of modern tattooing." (St. Cloud Times, July 28, 2002) Several of Central Minnesota's tattoo artists were well versed in tattoo's rich history and mentioned Ed Hardy and Sailor Jerry as masters within the broader field of tattoo.
As today's tattoo artists and body piercers train the new generation of apprentices in the body modification field, they will join this lineage and become part of tattoo's history.
~ Mary Warner, MCHS Executive Director
This article first appeared in the MCHS newsletter, Vol. 32, No. 2, 2019.