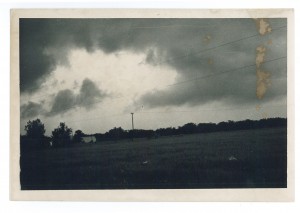 Between July 21 and July 22, 1972, Central Minnesota suffered a downpour that dropped six-to-fourteen inches of rain on Morrison County. The resulting flood caused around $9 million in damage and warranted a visit to the area from Governor Wendell Anderson. President Richard Nixon declared eleven counties in Central Minnesota, including Morrison, a federal disaster area.
Flood waters threatened the northeast side of Little Falls. Volunteers from around the city came to sandbag. Mayor Dr. Kenneth Flolid ordered Highway 371 be cut in order to divert water away from town and back toward the river. His decision was in defiance of state orders but was critical to limiting damage in the city.
Roads around the county were flooded; some were washed out. Homes were flooded as well. It was a dramatic event that pulled together communities, both in dealing with the flood and in the clean-up.
Betty Jelinski, whose family lived on the east side of Sebie Lake in Fort Ripley Township, wrote an account of her family's experience of the flood. Her husband's name is Wilfred. There were six kids in the family, ranging in age from 4 to 17. It was raining when the family went to bed. They couldn't get settled due to the storm. According to Betty,
"How it got  from midnight to 3:30 a.m. July 22nd, I don't know. It seemed I had just shut my eyes when I heard one of the girls say something about water. I didn't move, thinking if I didn't say anything, she would go back to sleep. Pretty soon I'm hearing "splash, splash" and she is coming down the hallway. I was up in a flash and stepped ankle deep in water. What the heck? I thought. The bedroom window looked out towards the lake and it was dusky out there, you really couldn't see clear, but there was water everywhere and objects all over the lake. Something really big and long out towards the center. By this time everybody was up. Will put us in order. He would put 8 year old Shawn on his shoulders, Jeff would put 4 year old Shannon on  his shoulders, I'd be next with the rest of the kids in a file order. When I hit the ground the water was right under my armpits. Scared?? You bet. Will led us to the shoreline, which we walked along, going south. We walked in front of the Stanley Miller cabin just as their big speedboat gurgled under the water, to be seen no more. We continued up the hill to the Gene Gehman cabin and knocked at their door. When Gene came, he  immediately said, "What's the matter?" It didn't take long to explain the situation and, of course, up here on the hill, they were "high and dry.""
Since publishing an article about the 1972 flood in a 2014 issue of the Morrison County Historical Society newsletter, we've heard a number of stories, including Betty's, about the flood from those who lived through it. As there were no deaths caused by the flood, everyone in the county at the time lived through it, although there were a couple of close calls. Two-year-old Clinton Holsapple walked into the Mississippi River south of Little Falls and was rescued by LeeAnn Maslowski, who saw him enter the  river and went in after him without a thought to her own safety. She received a commendation from the American National Red Cross for her heroism a year after the flood.
Jim Hurd slipped into the Mississippi River while reviewing the sandbagging efforts on the northeast side of Little Falls. He caught a rope that had been strung for safety and was pulled out.
Because this dramatic natural disaster is still within the memories of so many people, now is a great time to gather those memories. We urge you to leave your personal stories about the 1972 flood in the comments.
The Morrison County Historical Society is fortunate to have a large number of 1972 flood photos in its collections. We present them here, along with some sent in by contributors,  as an online exhibit.